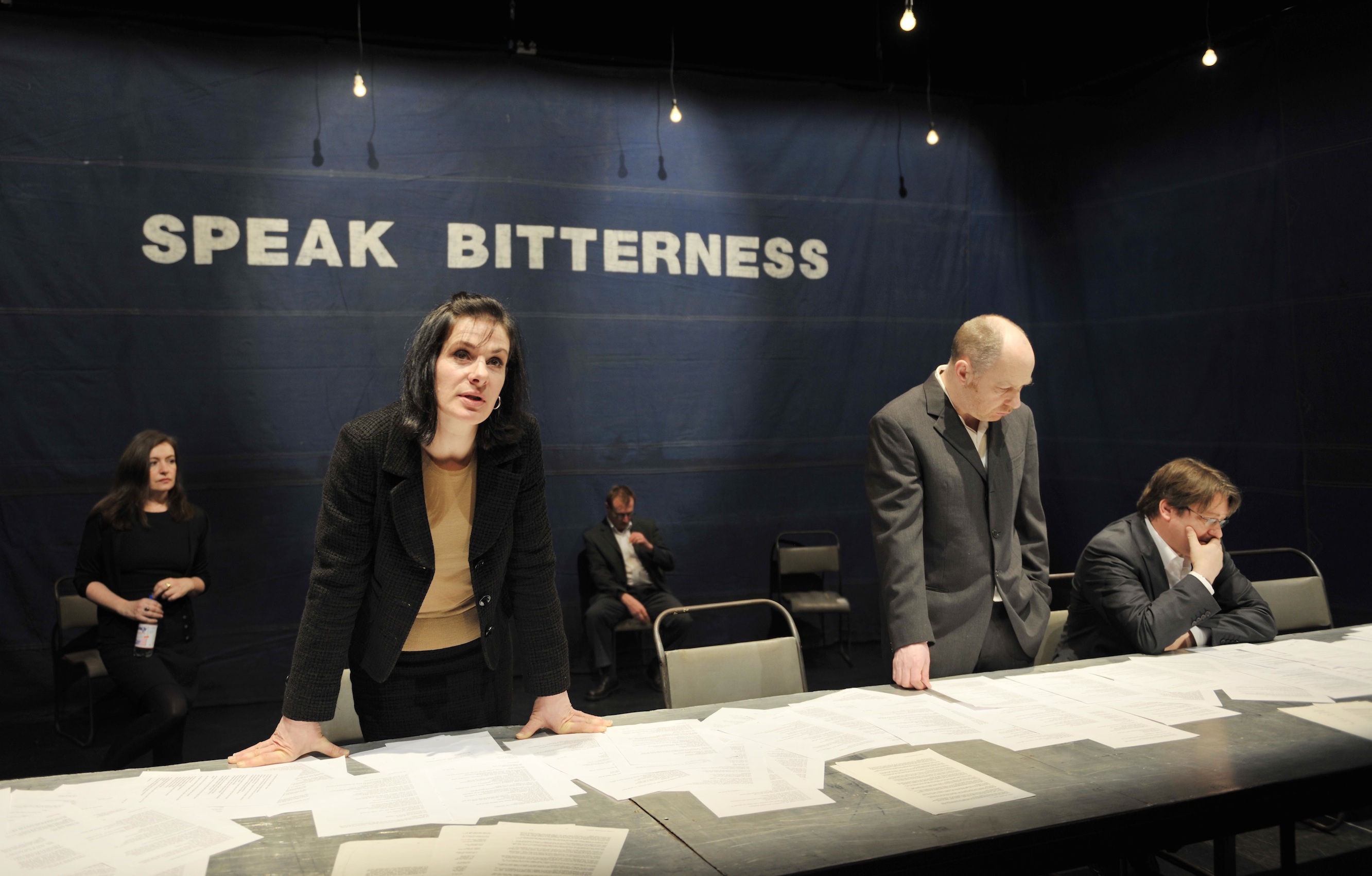 Speak Bitterness (2004)
Forced Entertainment have been doing whatever the hell they want since 1984, which is an impressive durational piece in itself. Taking into account the work that they've produced over that time, you'd be hard pressed to find a company that has succeeded in confounding audience members worldwide so consistently. Luckily, their accounts are devoid of the signature confusion/laughter dynamic and provide some valuable insight into how Forced Entertainment work when they aren't at play.
The revenue streams are certainly nice and simple:
In 2014, the only grant received was the ACE Portfolio grant and this level of funding has been confirmed out to 2018. For an organisation with 'Theatre' listed as their discipline within the portfolio, Forced Entertainment's grant is below the mean, which was £579,056 for 2013/2014. That number is slightly skewed by the enormity of the grants provided for The RSC and The National but even without the two behemoths included, it's still well below the adjusted figure of £386,059. The ACE Portfolio grant was also the bulk of grant revenue in 2013, although they did receive £103 from The British Council that year. What's good about this is that Forced Entertainment don't have to manage a web of funding relationships: operationally they can be much more efficient.

The Investment Income isn't something highlighted in previous posts, normally lumping it in with 'Other Income' is sufficient since it's such a small percentage of revenue for arts organisations. Since most organisations keep reserve funds and money sitting around doing nothing is of little use artistically or financially, it makes sense to try and make it work a little harder. However, the income number will always be low across non-profit arts organisations since the primary activities of the organisation are artistic and not financial hence investment activities are limited according to policy set by Trustees/Directors.

If you sum the cash reserves held by the ~165 ACE portfolio organisations with 'Theatre' listed as their primary discipline, the result is a lot of money (conservative guess of £200k average reserve x 165 orgs = £33mil) currently invested in the arts that is not seeing a cultural return but serves as passive 'protection'. You could argue that such thinking discourages the risks that should be taken to fuel the growth of the sector and that in reality, 3 month's running costs is not going to save any organisation if the ship starts sinking because all organisations are linked into the same economy: if one organisation is struggling then it's likely others are. It follows that if everyone is battening down the hatches then 3 months is simply not enough time to secure new emergency funding streams because those roads will be cut off from all parties. The illusion of safety given by inadequate reserves is potentially more dangerous than not having them at all. You'd have to be a real doom-monger to argue that though...

Returning to the revenue streams, the good news for Forced Entertainment is that although their revenue streams are simple, their reliance on ACE is relatively low and their portfolio grant represents only 39% of their revenue. Compare this to The Gate's 2014 ratio where the portfolio cash was 43% of revenue and Paines Plough's 46% of revenue. The other good news is that Touring and Production income has seen a substantial rise year on year, allowing for modest growth despite the reduction in Sundry and Agency Income.

Growth can be a thorny issue for an organisation as established as Forced Entertainment and although the reliance on ACE is low, the amount of funding received will not drive future growth in itself (unlike in an organisation like Paines Plough who at the time of writing have just been awarded £750k over 3 years to tour new writing with The Roundabout, no doubt ensuring future additional funding as their footprint continues to expand). Although Forced Entertainment's revenues have grown year on year (up from £586,000 in 2011 to £655,922 in 2014), future revenues will likely follow the same organic growth pattern (seemingly due to audience growth overseas) unless a major strategic step-change is made.