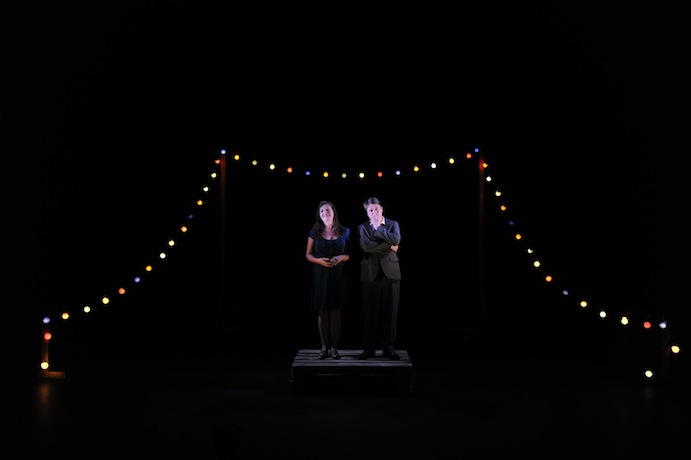 Tomorrow's Parties - 2011
As shown in
Act I
, Forced Entertainment operate a very simple revenue model where approximately 39% of their 2014 income (£655,922) arrived via ACE's portfolio fund and the majority of the remainder via production income. Their expenditure is similarly binary in nature, cleanly split between charitable activities and support costs:
Forced Entertainment's 2013/2014 expenditure
The substantial jump in Production Cost spend is likely due to the fact that the company celebrated their 30th birthday in 2014 and dug through the back catalogue to present 12 different shows from their repertoire over the course of the year. In contrast, in 2013 the principle artistic focus was The Coming Storm which attracted £85,000 of external co-production funding. Adding that amount of funding back in makes it much less of a jump in production expenditure, particularly given the variety of pieces performed. One would assume that 'Touring' costs include things like transportation and accommodation but it would be nice to see a clear breakdown.
Forced Entertainment's largest expense is clearly 'Fees, wages and expenses' (down to a total of £315,434 in 2014 from £375,953 in 2013). The reduction in 2014's figure likely comes from the loss of one member of the creative team in 2013 which incurred exceptional redundancy costs of £10,353 and of course saved one salary in 2014. Forced Entertainment employ 10 people, 6 in the creative team and 4 on the management team. The average wage looks to be around £36,000 on the creative team and around £25,000 on the management team (taken with the usual caveat that staff numbers include any part-time staff).
All of which means that for 2014 Forced Entertainment were left with a surplus of £14,839; nearly double the previous year's surplus of £7,665.

For the last couple of years, Forced Entertainment's revenues have come through the ACE Portfolio and from production income. The immediate benefit of this is that both of their income streams are unrestricted (barring those funds set aside by the trustees as reserves). Consequently, there seems little need to break down the various funds (hence looking at expenditure and assets here in one post).

The most interesting change on the balance sheet is the reduction in the 'other creditors' number (IE money owed which is due within one year), which was at £70,520 in 2013 but is down to £33,469 in 2014. These numbers are always slightly troublesome because the balance sheet represents a snapshot of a particular day, but hopefully it's an indication that Forced Entertainment were in a more stable position at the end of the 2014 accounting period.

Any organisation that creates performance (or indeed physical goods) must deal with 3 principle areas: Source, Make and Deliver. The panoply of business models seen across the arts sector is testament to the innovation that can occur within each of these silos. For example, a new writing company could set itself apart specifically via methods of sourcing (there is often talk of developing content platforms as part of the 'Deliver' silo but sourcing platforms could prove equally effective). Alternatively, a new writing company could focus on making/developing the work, ensuring that output met specific criteria (speed of development, quality, production values etc.). The delivery platform could perhaps also be the primary focus and maybe emphasise specific spatial/temporal or concerns. If feeling particularly rowdy, organisations may even look to innovate across all 3 silos.

Forced Entertainment's focus is clearly on the 'Make' function described above: sourcing is taken care of by retaining a core creative team and delivery is provided by the management team and various co-production relationships. This makes for a relatively simple business model on paper but it's a level of simplicity that's been painstakingly etched out over 30 years. One important note: Forced Entertainment have previously grown by exporting their brand overseas but they have similar levels of attendance in both new and developed markets (around the 75% mark in 200-250 seat venues). This means that substantial growth of audience/engagement really relies on taking the repertoire to new markets (a 'more of the same' approach) and the major flaw of this business model is exposed: future growth is effectively capped.
However, this probably isn't an issue for a company that's been doing whatever the hell it wants since 1984.